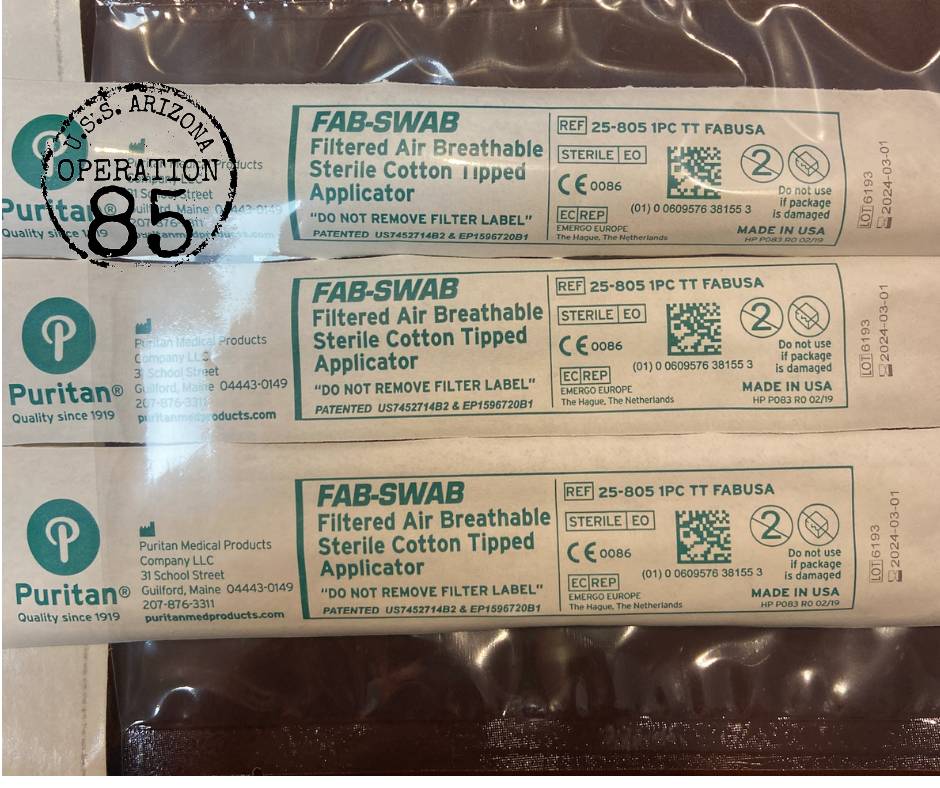 The DNA Sample Kit: What to Expect and How Easy is it?
DNA Sample Kit IWritten by: R.J. Thompson
It's not uncommon to be a little hesitant when someone asks for your personal information these days.  We all cringe and take a pause when someone asks for our social security number, date of birth and our home address.  We've been taught to be cautious of giving out any personal identification information, and depending upon which generation you were raised in, we may be a little over-protective when it comes to giving out info to anyone, including a website.  So I can imagine some may not be jumping out of their seats to offer up one's DNA.  But the process is actually very safe and very secure.  So this article is meant to explain the process and how your personal information is top priority.
How do you receive the DNA Sample Kit to participate?
Once you submit your contact information on our Family Member page, it will be sent directly to the US Navy or US Marine Corps Casualty Office.  They have a very specific process in creating a case file for you and your deceased relative.  Within a few days, you will be contacted directly from them and you will be assigned a Military Casualty Officer as your direct point of contact during the process.  Only your casualty officer can submit the request to receive the DNA sample kit from the DPAA.  Once they have determined you are indeed related to a specific sailor on the U.S.S. Arizona, they will then begin the process and mail you the DNA sample kit.
While we are requesting that you submit your information to our site first, you do not have to submit your information through our website to participate.  You can contact the US Navy Casualty Office or the US Marine Corps Casualty Office directly and start the process.  HOWEVER, if you do not share your information with us, neither will the Navy or Marine Corps if you go directly to them.  So we will not know we've found you and your link to a crew member.  Connecting the family members is what this site is all about. If you do choose to go directly to the casualty office first, please consider contacting us afterwards so we know we've found you!  The contact info for the US Marine Corps and US Navy Casualty Offices are below or USE THIS LINK to submit your contact info easily and safely on our site.
U.S. Navy
Navy Personnel Command Casualty Assistance Division (PERS-13)
5720 Integrity Drive
Millington, TN 38055-0000
Tel: 1 (800) 443-9298
Email: MILL_NavyPOW-MIA@navy.mil
Website
U.S. Marine Corps
Headquarters U. S. Marine Corps
Manpower and Reserve Affairs (MFPC)
Personal and Family Readiness Division
2008 Elliot Road
Quantico, VA 22134-5103
Tel: 1 (800) 847-1597
Email: repatriation@usmc.mil
Website
What comes in the DPAA DNA Kit and How to I Give my DNA Sample?
Once you receive your DNA sample kit in the U.S. Mail, its very easy and simple to follow the directions and return the package.  PLEASE open the package and follow the instructions to do the test and return it as soon as you receive it.  The Navy Casualty office reports that many kits are sent out, only to never be completed and sent back by the family member.  The process takes less than 5 minutes to do and the return envelope with postage is provided for you.
Once you receive the package, you will also receive a very detailed set of instructions and information about the sample tests. We have also provided the PDF of the instructions you will receive in your sample kit below. Feel free to download the PDF HERE and read it early to understand the process.  The test requires you to swab the inside of your cheek with a cotton swab and place that cotton swab inside a container and seal it.  You'll then re asked to package the sample back in the
DNA Sample Kit I
Download PDF Instructions for Sample Kit