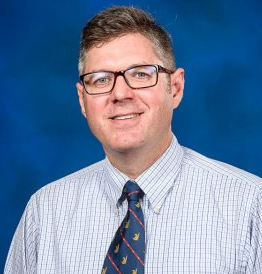 "Operation 85" Salutes History Teacher and Research Wizard: Daniel Abell
As we continue our quest with the U.S.S. Arizona "Operation 85" project, aimed at identifying the unknown crew members of the U.S.S. Arizona buried at the National Memorial Cemetery of the Pacific in Oahu, Hawaii, it's essential to spotlight the key players who make our mission possible. One such remarkable contributor, who joined our team this May, is Daniel Abell, a veteran high school history teacher with a deep-seated passion for veteran research.
Residing in Chesterfield County, Virginia, Danny is no ordinary history teacher. His dedication to imparting knowledge and fostering curiosity in young minds earned him the title of "Teacher of the Year" for the 2022/2023 school year. Midlo Scoop Article on this achievement highlights his exceptional contribution to education.
However, Danny's thirst for historical truth extends well beyond his classroom. Over twenty years ago, he embarked on a personal journey to understand and pay homage to military veterans, beginning with writing letters to every living Medal of Honor recipient. The powerful responses he received ignited a spark that saw him delve deeper into the past, conducting research to locate relatives of deceased and posthumously awarded Medal of Honor recipients.
His skills in genealogical research eventually led him to volunteer his services to numerous Memorial Organizations, becoming a beacon of connection and closure for many military families. Amidst all these, Daniel finds joy and support in his family life, married to Trina, an elementary school teacher, and doting father to their daughters, Riley and Emma.
When Danny joined "Operation 85," he brought with him this intense passion and an uncanny ability for research that has proven to be a game-changer for our mission. Both Kevin Kline, the Executive Director of Operation 85, and Chief Research Analyst John Hardy agree that Danny's addition to the team has been instrumental in our project's significant strides in recent times.
The mission, though noble, was not without challenges. But with Danny's hard work, his eye for detail, and passion, we have witnessed an unprecedented surge in the number of family members reached within a short period. This remarkable achievement has significantly influenced the Defense POW/MIA Accounting Agency (DPAA), the Navy, and Marines' engagement with Operation 85, resulting in our project gaining enhanced recognition, collaboration and seriousness over the past month.
The proof, as they say, is in the numbers. The success of "Operation 85" so far is directly correlated with Danny's unwavering commitment and remarkable research skills. His contribution serves as a powerful testament to the impact that one determined and dedicated individual can have on a collective mission.
In recognizing Daniel Abell's efforts, we highlight the human factor behind our mission. His work bridges the past and the present, giving names to those who served and offering closure to their families. As we continue our mission, we look forward to the valuable contributions Danny will undoubtedly bring to our cause, driven by his passion for history and his heart for service.