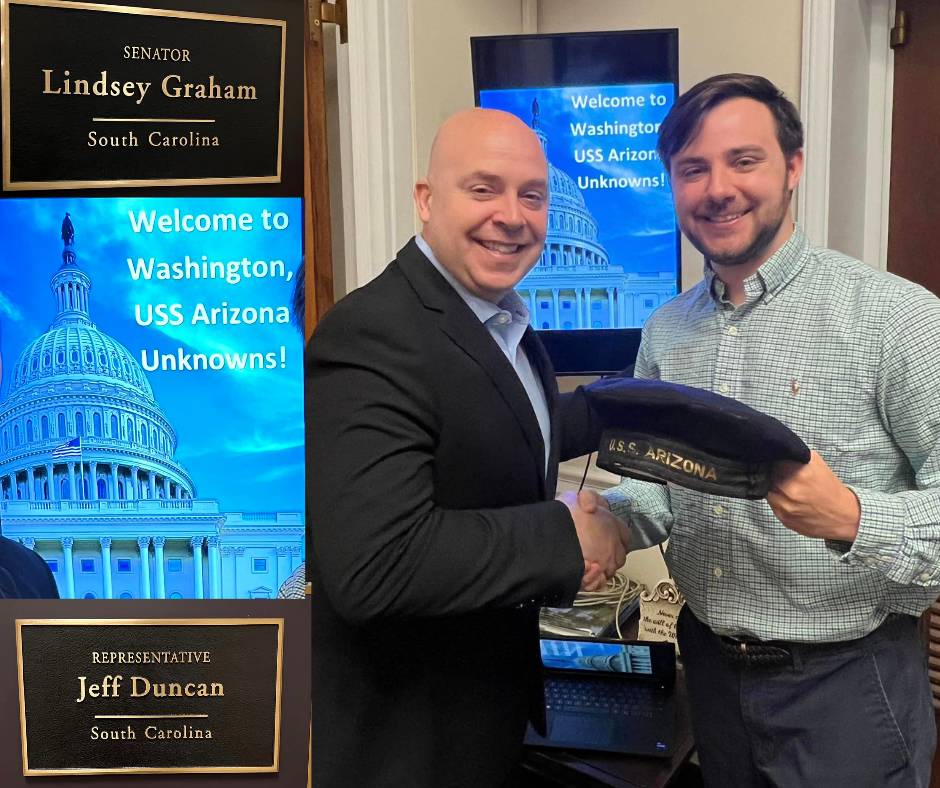 South Carolina Politicians Leading the Way to Identifying the USS Arizona "unknowns"
In December of 2022, a post on a South Carolina politicians Facebook page had caught the attention of Kevin Kline, Executive Director of "Operation 85".  Representative Neal Collins, who represents South Carolina's District 5 (Greenville & Pickens Counties) had posted the recent success of the Defense POW/MIA Accounting Agency's news of positively identifying the remains of his uncle, PFC John R. Bowers, who was killed in action during the Korean War and had been missing since 1951.
Mr. Collins had provided a DNA Family Reference Sample (FRS) to the DPAA in hopes that it could be used to match to his uncle if remains were ever discovered. And that is exactly what happened. Mr Collins stated in the post, "I'm thankful to a country that forever works to find those who sacrificed for it." 
---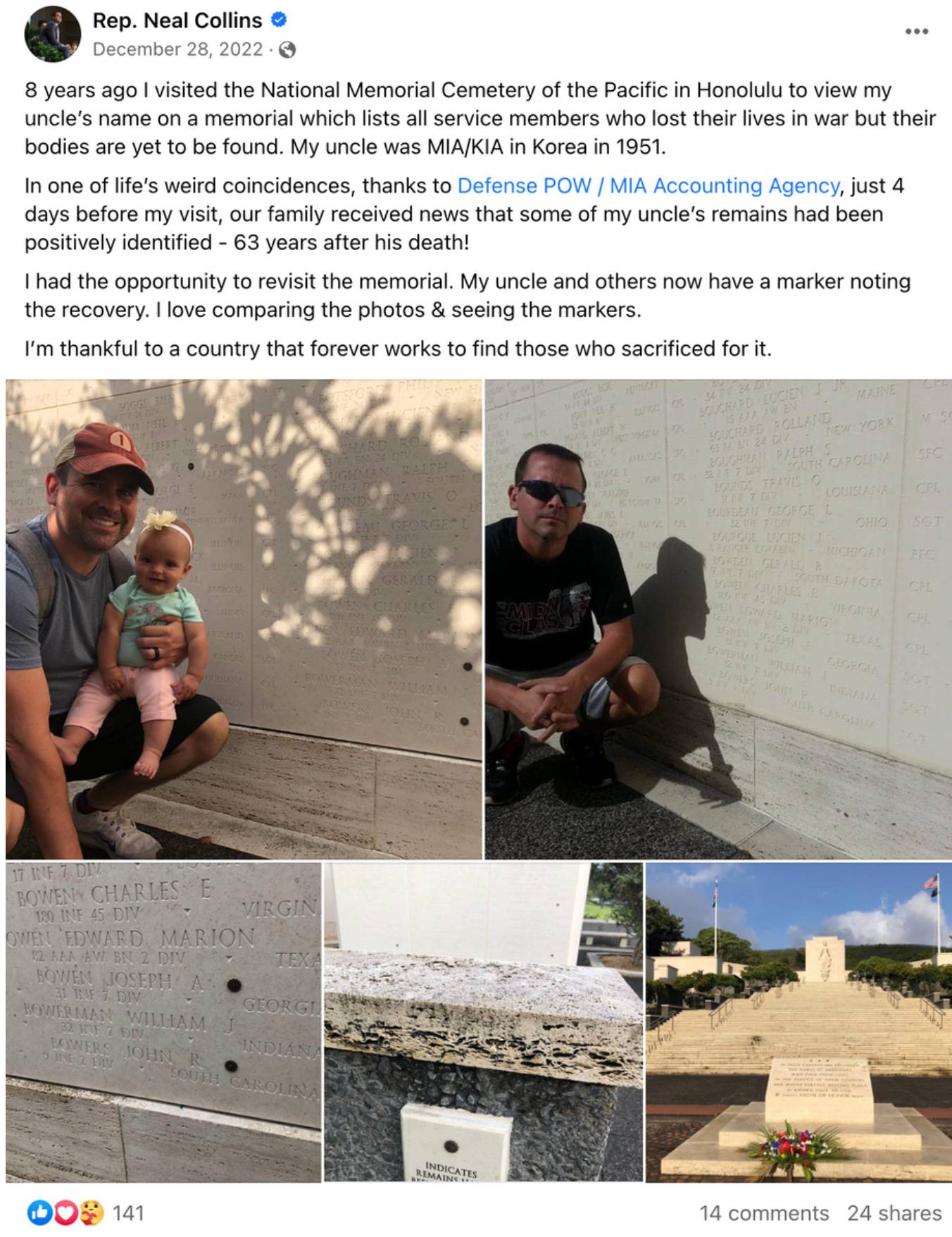 ---
After reading the post, Kline had reached out to Representative Collins to introduce himself as the great nephew of a sailor killed aboard the U.S.S. Arizona, and to let him know about his mission to find and locate enough direct bloodline family members from the U.S.S. Arizona to hopefully have the same results Mr. Collins did in having his uncle identified and brought home.
What is the DPPA Doing for the U.S.S. Arizona Unknowns?
Currently, over 85 U.S.S. Arizona crew members are buried in commingled graves marked "unknown" at the National Memorial Cemetery of the Pacific in Honolulu, Hawaii. This cemetery is about 10 miles away from Pearl Harbor.  Shockingly, the Defense POW/MIA Accounting Agency (DPAA) has failed to use any of their resources to locate family members of the Arizona crew for collecting DNA Family Reference Samples.
Even more concerning, the DPAA has no budgetary plans to undertake this crucial task in the future. Without these family reference samples and the active participation of the DPAA, their mission to "provide the fullest possible accounting for the missing personnel" will undoubtedly fail for the crew and families of the U.S.S. Arizona.  There can be no opportunity to succeed in the DPAA's mission to the USS Arizona families, if the mission of the Arizona is not even being acknowledged or pursued.
The DPAA's 60% Threshold: Appeasement Policy or Actual Goal?
The DPAA currently does have an internal "threshold policy" in place with the U.S.S. Arizona unknowns of 60%.  That means if, or when they ever obtain 60% or more DNA Family Reference Samples of the 1072 unrecovered crew members, they will then consider changing the policy and priority of the U.S.S. Arizona unknowns to a "working priority" within the DPAA structure.
But let's look closely at this policy with some common sense.
How could the DPAA ever reach their own 60% threshold goal for the Arizona, if they have no plan or resources allocated to work towards that goal in the first place?
It's a clear example of a "bureaucratic appeasement policy" put in place should any family member ask why the U.S.S. Arizona unknowns are not being prioritized or worked.
But don't think that the DPAA wouldn't love to solve the problem.  In 2015, the DPAA leadership proposed to close out the U.S.S. Arizona unknown project quickly and with "one fell swoop" by disinterring all of the unknown graves without any attempt in identifying them, and placing them all into one box within the U.S.S. Arizona ship.  Public outrage to this proposal lead to its quick dismissal, and then the USS Arizona fell quiet once again.
Executive Director of Operation 85 Kevin Kline does agree with the 60% threshold policy, but only as a grave disinterment policy.  "I would not want to see the unknown graves disturbed when the DPAA only has a few dozen DNA reference samples on hand to compare them with.  That would be setting themselves up for complete failure when there are 1072 missing." he stated,  "However, not actively searching for the families to connect to those crew members now, is a very poor decision on the part of the DPAA.  That policy is also setting themselves up for failure, but failure without having to take any responsibility."
But now Kline and the families have taken on this responsibility themselves in part due to the lack of interest and participation, and an unachievable internal policy from the DPAA itself.  A solution was desperately needed, and "Operation 85" was born.
Kline added, "Since starting Operation 85 less than a month ago, we've personally connected with over 90 family members of the crew, and some of them are elderly and not in the best of health.  Waiting for the DPAA to make the USS Arizona unknowns a "working priority", and waiting for them to actively begin locating these families and requesting their DNA Family reference sample, could result in many of these family members no longer being alive to provide that sample, and I am extremely saddened that the DPAA doesn't recognize the importance of this and prioritize at least the search for the families of the Arizona unknowns now.  This is why we started looking for them on our own. This is why it's so important to do this now."
Is it more than just the 85 ?
The mission of identifying the unknowns buried in the National Memorial Cemetery of the Pacific is certainly the top priority for Operation 85 families and all of its partners and supporters. However, Kline added another great point that seems to have been overlooked.  In 2008, the Department of Defense and the National Park Service conducted a long term feasibility study of the integrity of the ship itself.   The study was mainly conducted to observe the environmental impacts of the oil that is still continuing to leak from the ship today, and how long the hull of the ship would maintain its integrity with the oil still held within.  The good news is they believe the ship itself is not in any imminent danger of structural collapse or hull breakage.  The deeper the ship is to the bottom, the less deterioration the vessel had suffered.
However, as they got within 5 feet of the water surface, they noticed a great amount of deterioration was happening to the ship steel and hull.  Depending upon what level of the ship we are discussing as to the surface of the water line, it is estimated by computer models that there is anywhere between 50 and 200+ years of steel integrity left within the ship.
So that leads to an important question.  Could there be skeletal remains preserved within the ship right now, and what happens if the ship's integrity fails?  Kline answered, "No one really knows for sure, and I am certainly not an expert in how long human remains may last in such conditions, but Ive been told there is a good chance under the right conditions that human remains could very well still exist within the ship and those human remains could still have usable DNA to match to a family member. It's not out of the realm of possibilities.
However, the families have no interest in disturbing the ship or the memorial to find out. But should the ship's integrity begin to fail 50, 75, or 100 years from now, and should remains come to the surface because of that, I would hope to think the great work we are doing today to locate families and get DNA Family Reference Samples on file, might identify one or many crew members 100 years from now.  Technology is always improving and who knows what could be done in the future.  I am optimistic and most importantly hopeful we can at least identify the unknowns removed from the ship in the very near future with the technology we have today."
South Carolina Politicians Take the Lead!
After getting Mr. Kline's email about "Operation 85", Representative Neal Collins responded quickly to the call for help. Certainly with Mr. Collins recently having his own family member identified by the DPAA through the use of his DNA Family Reference Sample, he understood the importance of getting closure for his family, even with a family member he may not have ever met or known.
Operation 85 was officially launched on April 6, 2023 and it didn't take long for the help from patriotic South Carolina lawmakers to arrive.  Due to Mr. Collin's efforts within a few days, Mr. Kline had an invitation to Washington D.C. to meet with legislative affairs and veteran affairs staff members of both Congressman Jeff Duncan of South Carolina's 3rd District and longtime South Carolina Senator Lindsey Graham.   An impromptu meeting with staff of Congressman Joe Wilson of South Carolina's 2nd District happened with a connection from another staffer.  With everyone involved beginning to understand what's needed to "get the ship sailing". a political map could begin to be laid out, setting a course for success.
Kline, a native to Washington, D.C.,  and a former municipal elected official himself, said he "enjoys the grind of lobbying and making new political friends for such a great cause, but admitted he will need to lean on his political staffer allies to weave this particular project through a web of senate and house committees, budgets and appropriations.  "This is the big leagues," he joked. "But at any level, every winning team needs to recruit a few all-stars and our bullpen just got a little deeper with help from Duncan and Graham's team.
What's in it for South Carolina?
There is no doubt that everyone involved can recognize the national importance and need for prioritizing the finding of family members on this mission. But what connection does South Carolina have to the U.S.S. Arizona?  An important one; that's because there were nine (9) South Carolina casualties aboard the U.S.S. Arizona whose remains were never recovered from the attack on Pearl Harbor December 7, 1941. Two of them killed on the Arizona were related to each other.  Ship Fitter 3rd Class James Carlton Moore of Anderson, SC was the uncle of Seaman First Class Douglas Carlton Moore of Anderson, SC and they both enlisted in the US Navy together on the same day, November 28, 1939, and bother served and were killed aboard the U.S.S. Arizona. Below are the nine South Carolina crew members missing with links to their stories.  Operation 85 is still looking for their blood related family members.
S1c Henry Lloyd Lee from Conway, SC
CM3c Wayne Alman Lewis from Arcadia SC
S2c John Morgan Meares from Greenville, SC
FC2c James Garland Nations from Pickens, SC
S1c Broadus Franklin West from Simpsonville, SC
S1c Vernon Russell White from Spartanburg, SC
RM3c Jack Herman Williams from Columbia, SC
S1c Douglas Carlton Moore from Anderson, SC
SF3c James Carlton Moore from Anderson, SC
How can South Carolina Politicians Help The Cause?
During the meetings this Tuesday between Kline and staffers, four crucial needs from Operation 85 were highlighted. Firstly, there is a need for outreach and awareness to their constituents about Operation 85's mission to locate living bloodline family members of the nine missing U.S.S. Arizona crew members from South Carolina.  Sharing the project and its website on their social media outlets could easily access and reach thousands of constituents, increasing the chances of finding more family members related to the South Carolina crew.
Secondly, the lawmakers were asked to assist in arranging a meeting between the Director of DPAA and the Director of Operation 85 while also establishing ongoing communication channels for updates on missing and identified USS Arizona crew members from South Carolina.  Despite several attempts and multiple requests from Kline himself, and through several different channels, the DPAA Directors office has refused to meet or even have a phone call with Mr. Kline on his efforts to discuss the success of Operation 85, finding the family members and identifying the USS Arizona unknowns.
We also noted that the DPAA Directors Office does not provide direct public contact information on their website other than a general contact form.  During the course of preparing this article, we reached out through that general contact form for press questions related to this article to the Directors Office. Three weeks have passed and we have not had any response.  Kline hopes a friendly intervention from Capitol Hill may be the little poke necessary to start a dialog.
Thirdly, Kline asked for other connections with other senators and congress members who share their mission and may be interested in supporting the cause.
Lastly, there was a request for general political support in creating the needed roadmap for requiring the DPAA to categorize the U.S.S. Arizona as a "Working Priority" within their organization.  That map was already sketched out before the day was over and work to implement those plans has already begun behind the scenes.
What's Next for Operation 85 in South Carolina?
Operation 85 has come out of the gate at full steam.  Amazing partnerships have been forged and the family member numbers are slowly but steadily increasing. South Carolina getting involved early on with Operation 85 has probably helped more than most realize.  Kline knew he needed political support along the way, but hadn't thought out how that was going to happen or when to pursue it. But a post on Facebook took Kline and Operation 85 in a direction that was never planned, but a course correction that simply dropped in his lap. A true lesson to be learned.  Life will always bring you what you are looking for, as long as you are willing to notice it when it arrives in front of you, or in this case on your Facebook Feed.
Written by: Tully West on behalf of "Operation 85"